Brown & Michaels
List of PCT Countries
---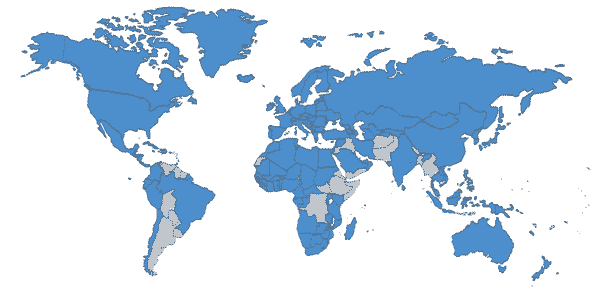 The following countries have signed the Patent Cooperation Treaty: For the latest changes, see our "PCT News" page. We also have a list of countries which are not in the PCT
The two letters before the country name are the WIPO "country code" used on PCT documents.
An explanation of the codes which follow some country names on this chart is given below or click on the code.
AL Albania <EPO>

DZ Algeria

AO Angola

AG Antigua and Barbuda

AM Armenia <EuP>

AT Austria <EPO>

AU Australia N31

AZ Azerbaijan <EuP>

BH Bahrain

BS Barbados

BY Belarus <EuP>

BZ Belize

BA Bosnia & Herzegovina <EPO+> N34

BW Botswana <ARIPO>

BR Brazil

BN Brunei Darussalam

KH Cambodia (as of 8 December 2016)

CF Central African Republic <OAPIonly>

CL Chile

CN People's Republic of China (mainland China, not Taiwan) N30/32$

CO Colombia

CR Costa Rica

CU Cuba

DK Denmark <EPO-L2> N31 (but see note DK below as to protection in Greenland and Faroe Islands)

DJ Djibouti - as of 23 Sept 2016

DM Dominica

DO Dominican Republic

EC Ecuador N31

EG Egypt N33$

SV El Salvador

GQ Equatorial Guinea <OAPI only>

EE Estonia <EPO>

FI Finland <EPO - L2> N31(patents only)

GM Gambia <ARIPO>

GE Georgia N31

GH Ghana <ARIPO>

GD Grenada

GT Guatemala

HN Honduras

ID Indonesia N31

IR Iran

IL Israel

JP Japan NR

JO Jordan (as of 9 June 2017)

KE Kenya <ARIPO>

KP Democratic People's Republic of Korea (North Korea)

KR Republic of Korea (South Korea) N31 NR

KW Kuwait - as of 9 Sep 2016

LA Laos ("Lao People's Democratic Republic")

LS Lesotho <ARIPO>

LI Liechtenstein <EPO - L1> (joint w/Switzerland) <EPO only after 4 Sept 2014)

LR Liberia <ARIPO>

LY Libya

LT Lithuania <EPO - L2> N31 <EPO only after 4 Sept 2014>

MK Macedonia ("Former Yugoslav Republic of Macedonia") <EPO> N31

MG Madagascar

MW Malawi <ARIPO>

MY Malaysia

MX Mexico NR

MD Moldova <EPO after 1 Nov 2015> (see Note MD below)

MN Mongolia N31

ME Montenegro (see note YU below) <EPO+>

NA Namibia <ARIPO>

NL Netherlands <EPO-L2 only> N31

NI Nicaragua

NG Nigeria

NO Norway <EPO>

OM Oman

PA Panama

PG Papua New Guinea

PE Peru

PH Philippines NR

PT Portugal <EPO>

QA Qatar

RO Romania <EPO>

RU Russian Federation <EuP> N31

RW Rwanda <ARIPO>

LC Saint Lucia

KN St. Kitts and Nevis

VC St. Vincent & the Grenadines

SM San Marino <EPO>

SA Saudi Arabia

ST São Tomé and Principe <ARIPO>

RS Republic of Serbia <EPO> (see note YU below)

SC Seychelles

SG Singapore N30/33$

SK Slovakia <EPO>

ZA South Africa N31

ES Spain <EPO>

LK Sri Lanka (Ceylon)

SD Sudan <ARIPO>

CH Switzerland (includes Liechtenstein) <EPO-L1>

SY Syrian Arab Republic

TJ Tajikistan <EuP>

TH Thailand

TT Trinidad and Tobago

TN Tunisia

TR Turkey <EPO>

TM Turkmenistan <EuP>

UA Ukraine

AE United Arab Emirates

GB United Kingdom <EPO-L1> N31

US United States of America

UZ Uzbekistan N31

VN Viet Nam

(YU Yugoslavia - see note YU, below)

ZM Zambia <ARIPO>

ZW Zimbabwe <ARIPO>
For specific information on each of these countries, see WIPO's PCT Applicant's Guide page.
We also have a web page giving details on countries not in the PCT
---
Codes for exceptions to the standard 30 month deadline - C2 / Nxx / NR
C2 = "Chapter II Required" - This country has not yet changed its national law to conform to the post-April 2002 PCT 30-month national entry procedure. A Chapter II demand must still be filed before 19 months to get the benefit of the 30-month national entry timing in these countries. Note that all of these countries are available through regional patent systems which have accepted the uniform 30- or 31-month period.
Nxx[/yy$] = "Nonstandard National Stage Deadline" - This country has a national-phase entry deadline longer than the normal 30 months, where "xx" is the number of months for entry into national phase. If there is a second number followed by a "$" (N30/31$), the national phase date may be extended to "yy" months on payment of a late filing fee.
NR = "No Reinstatement" - PCT Rule 49.6 requires each PCT country to allow reinstatement of a PCT application which does not enter the National Stage within the normal 30 month period (or the longer period noted by code Nxx, above). Under this rule, if you miss the deadline, you can petition the national patent office to reinstate the application (with a fee, and within a period of time determined by that country's law). Certain countries have not yet changed their law to permit reinstatement according to rule 49.6. These countries are flagged with code NR on this list - you must enter National Stage in these countries before the deadline, or your application will be irretrievably abandoned. See http://www.wipo.int/pct/en/texts/reservations/res_incomp.html
Codes pertaining to Regional Patent Systems
Countries which are part of a "Regional Patent" system are shown by various symbols (see list, below). If a country is part of a regional system, you can enter the national phase in that country through the regional patent system instead of filing a national application in the individual member country. This allows you to file and prosecute one single application, which, when issued, could be effective in all of the member countries - note that you may need to designate which countries you want, file translations and pay additional fees per country, once you enter the regional phase and/or after the regional patent issues.
<... only> = If the regional patent code is followed by "only", this means that you cannot enter National Stage to get a national patent through PCT - you must use regional patent to get patent coverage in this country.
European Patent Convention
<EPO> = Covered by European Patent Convention (EPC).
An EPC application may be filed in the European Patent Office (EPO) in English, French or German, and any or all of the 42 EPO member countries may be designated upon filing the regional application. There is a 31 month deadline to apply for regional patent through the EPC - this is not separately noted in the chart, above.

Prosecution in the EPO will be in whichever language the application is filed. Once the EPC application is allowed, the claims (only) must be translated into the other two languages before the patent will be issued.

After the EPC patent issues, it must be registered in any of the designated countries in which you want protection - this may require translation of the entire patent into other languages, depending on which countries are selected and what language the application was in. If the country has signed the London Agreement, some or all of the translation burden is eased - see below.

Annual fees ("annuities") are charged by the EPO during the pendency of the application. After the patent issues, annuities are charged by most, if not all, EPO member countries from registration through the life of the patent.

<EPO-L1> = This country has signed the London Agreement. The national patent office does not require translation for any EPO patent issued after May 1, 2008. Note that the EPO requirement for translation of the claims into English, German and French on allowance still applies.

<EPO-L2>= This country has signed the London Agreement in a partial form. For all EPO patents issued after May 1, 2008, an English version of the description and drawings is acceptable, but claims must be translated into the local language. If the original description and drawings were not in English, then they would need to be translated into either English or the local language.
<EPO+> = Not a member of the EPC, but extension of European Patent is possible.
<EPO-V>= Not a member of the EPC or EPO, but validation of European Patent Application or issued patent is possible.
Other Regional Patent Systems
<OAPI> = Covered by OAPI regional Patent (French-speaking African countries)
<ARIPO> = Covered by ARIPO Patent (English-speaking African countries)
<EuP> = Covered by Eurasian Patent (former USSR states) 31 month deadline to enter regional phase.
Notes which apply to only one country
DK - special time limits apply to the Faroe Islands and Greenland. The Danish Patent and Trademark Office has notified the International Bureau that, with regard to entry into the national phase in Denmark, special time limits apply to the Faroe Islands and Greenland. For these areas the time limit is 20 months from the priority date (or from the international filing date where there is no priority claim). The Danish Patent and Trademark Office has notified the International Bureau that the time limit for entry into the national phase, where a demand for international preliminary examination has been filed before the expiration of 19 months from the priority date, is 30 months for Greenland, however, in the case of the Faroe Islands it is 20 months. For the rest of the Danish territory the time limit is 31 months from the priority date, with the possibility of extending that time limit by two months. For further information, please contact the Danish Patent and Trademark Office or see their special page on this situation.
MD - It had been possible to obtain patent protection in Moldova through the Eurasian Patent (EuP). Such protection will no longer be available after 26 April 2012. The following is the announcement from the January 2012 PCT Newsletter:
On 26 October 2011, the Republic of Moldova deposited a notification of denunciation of the Eurasian Patent Convention, which will take effect on 26 April 2012.

This denunciation will not affect granted Eurasian patents or PCT applications filed before 26 April 2012 containing the designation of the Republic of Moldova for a Eurasian patent; these patents and applications will continue to have full effect. However, as a result of the denunciation, any international application filed on or after 26 April 2012 will contain the designation of the Republic of Moldova only for a national patent, and will not include the designation of that State for a Eurasian patent.

Furthermore, as from 26 April 2012, the Eurasian Patent Office will no longer be a competent receiving Office for international applications filed by nationals and residents of the Republic of Moldova. The remaining competent receiving Offices will be the State Agency on Intellectual Property (Republic of Moldova) or the International Bureau of WIPO, at the choice of the applicant.
YU - From the end of World War II through 1991, Serbia and Montenegro were part of the Socialist Federal Republic of Yugoslavia (two-letter country code "YU"). After the post-Communist breakup of that country in 1991, the two states jointly maintained use of the name "Yugoslavia" (YU). Then, in 2003, the name was changed to "the State Union of Serbia and Montenegro", but the "YU" code was kept in effect. The two states separated in June 2006, and the designation "YU" was replaced by "RS" for Serbia and "ME" for Montenegro.
As of September 19, 2006, the "Republic of Serbia" filed a declaration with WIPO stating that "the Republic of Serbia continues the state and legal identity of the State Union of Serbia and Montenegro" and confirming its membership in the PCT (among other treaties).

On 16 February 2009 the European Patent Organization and the Government of Montenegro signed an agreement on the extension of European Patents to Montenegro. In the February 2010 PCT Newsletter, it was announced that the effective date for this extension is 1 March 2010. It will be possible, in respect of international applications filed on or after that date, to extend the protection conferred by European patent applications and patents to Montenegro.
---